Truck Camper Adventure is proud to present this trip report by off-road guru and contributer, Jeff Reynolds (aka Jefe4x4). Anza Borrego Desert State Park is one of the best state parks in the entire country. Comprised of 600,000 acres, spectacular scenery and terrain of all types can be found in the Southern California park, including bajadas or alluvial fans, jagged canyons, sandy washes, colorful badlands, arid flood plains, and mountains. Anza Borrego is also a popular attraction with off-road enthusiasts with over 500 miles of dirt roads. In this trip, Jeff and his wife, Jeanie, his brother John and friend Krys tackle some of the best trails and natural features at Anza—Split Mountain, Fish Creek, June Wash, Dos Cabezas, the Diablo Drop-off, and Pinion Wash.
Living in Southern California gives one a leg up on exploring the largest park the state has to offer: The Anza Borrego Desert State Park and environs. My first foray into the area was in 1965 in my first four-wheel drive vehicle, a pale yellow 1949 Jeep Utility Wagon. It came with a worn out GM, 265 cubic inch V-8, Studebaker 33 percent overdrive, 5.38 gears, and great big 7.00×16 non-directional cross-country (NDCC) military tires.
Over the six years I owned the rig, I broke almost every part there was to break including both front Dana 25 axle shafts and RG&P; both rear Dana 41 axles and RG&P; a couple of engines; the overdrive—twice; spring perches; engine mounts; and both driveshafts. This was also my first attempt at a springs-over-axle (SOA), a term I invented and has become common in four wheel drive-dom.
Most of the Anza Trail is now closed on account of a small seasonal bird's habitat mitigation. Anza was one of our first trips to the region so every minute was brand new. We came down Coyote Creek on what is known as the "Anza Trail," through the willows, brush tunnels and mud to get to the tiny berg of Borrego Springs. It's kind of a middle class, Palm Springs wanna be. Our second four-wheel drive in the Upper Willows:
We fueled up and headed for Fish Creek and spent a few days on tributaries of Fish Creek (dry except during flash floods). Subsequently, we spent many a sojourn into this spectacular area in one of our next four-wheel drive vehicles.
Jump forward about 53 years. A whole lifetime has passed. I've now worked downtown Los Angeles for 38 years with the LA Philharmonic and retired to the West Slope Northern Sierra Nevada. We are on our thirteenth four-wheel drive vehicle, one of which is built for an off-road truck camper. But that urge to experience the "Anza," as we call it, still burns brightly in my soul. An email from my brother John sets the stage for another one of our yearly truck camper retreats. We've pretty much run out of locales to ply around Death Valley, the Owens Valley, and the Eastern Sierra Nevada in our truck campers, so the Anza is a fine destination.
Departing our rancho on the West Slope, we were pelted by incessant rain the whole 450 miles to Brother John's Agua Dulce compound. Squatting in his back driveway, Jeanie and I sleep the quiet deep sleep that only happens in a hard-side truck camper.
The next morning, we leisurely have breakfast and packed up hoping the traffic will abate by mid morning. Not so, commuter breath. The traffic is worse than ever. What should have taken 3.5 hours was a five-hour ordeal with a lot of stop and go, not fun with a pair of trucks with 6-speed manuals. Before I retired and scurried out-of-town 12 years ago, I was used to getting anywhere around the basin with little effort. Now, I don't recognize the place. The best thing about LA traffic, compared to other cities I've been in, is the equality of aggressiveness of the drivers. You can depend on it. We pulled off the road near Warner Springs and had lunch watching the RVs go by pulling trailers laden with all the newest side-by sides, Jeeps, and motorcycles and very few truck campers.
John wanted us to see, "The Slot," a natural crevasse in the sandstone where occasional flash floods over the eons have cut the deep groove. The temperature was already in the 90's by this time, but cooled as we entered the chasm.
After our little hike in the narrow crack, we hurried off down the road to the entrance to Fish Creek, a narrow dry creek through Split Mountain. Airing down to 30 psi and locking in the hubs, we drove smoothly up the sandy wash until we met the confluence at Sandstone Canyon. Thirty psi looks like this:
This was on a Friday afternoon, so not much traffic yet. A left turn it was. It started out wide enough but quickly narrowed.
We came to the end of trail where some very large sandstone boulders had crashed down on to the wash. Unable to get by, we had to do a U-turn.
Once back out on Fish Creek proper, we headed upstream toward the end of travel for us, called, "The Drop-Off," not be confused with the big, sand hill known as the "Diablo Drop-Off."
Then it started to get ugly—steeper and narrower. We had found the error of our ways and turned around by this time, but it was still iffy.
At one point, John had me push against the side of his Outfitter so as to not scrape on a large boulder. We used Motorola 10-mile-range walkie-talkies all week with one set of batteries to communicate, which saved us a lot of grief. The bros talking it over:
It was getting late in the afternoon and it was time to find a campsite.
Next morning we're back on the hunt for the edge. John wanted to go up the great sand hill called, the Diablo Drop-Off, but Jeanie had reservations about that considering our history with the hill. My very first trip with my new to me Jeep CJ-8 in 1988 was a disaster because of this hill. I blew 3rd gear in the tiny T-4 transmission and had to limp home avoiding 3rd gear altogether. Also, a trip around 1970 had us to the frame in the same place in our old FJ-40 at full tire pressure. Lessons learned.
Brother John assuaged Jeanie by saying he could fix anything that broke and to just go for it. Jeanie was not impressed and hung on to the grab bar the whole way. Nothing broke.
We started up the initial lower moguls in 2nd gear/low range gliding over the undulating trail, even getting some air on the passenger side.
No problem with the True Tracs, which were transparent and worked effortlessly with no wheel slippage.
Next, John tried to climb the sand hill with 30 psi pressure in 3rd gear/low range. We both have 6-speed manual transmissions. He roared a little over half way up but slowly sank to the frame at the steepest part spitting out sand with three wheels. He only has a rear factory limited slip.
He had to slowly back down the sand hill keeping the steering straight. If you get the least bit cockeyed in steep sand you can easily roll over and over.
Once at the bottom, he lowered the pressure to 20 psi, the minimum pressure we felt comfortable with without bead locks and attempted the hill once more in 4th gear/low range for a bit more momentum. He sailed right up, but had some advice for me once he reached the summit. He said the moguls near the top were very deep and to downshift to get over them. I followed his advice and sailed up without woe dropping to 2nd gear/low range to clear the top.
Once at the top of the mesa, we followed the trail down to the Arroyo Seco del Diablo (dry wash of the devil).
We wandered around trying to find historic elements of the area, but most had been closed on account of a bombing range from WW II that still had live ordinance lurking just below the surface. The next trial was June Wash. I'd been there decades before and it was worth seeing. We didn't get very far before turning around at the choke point of a very large rock that had blocked the throat of the canyon.
The sandstone ledges pushed the suspension articulation to the max.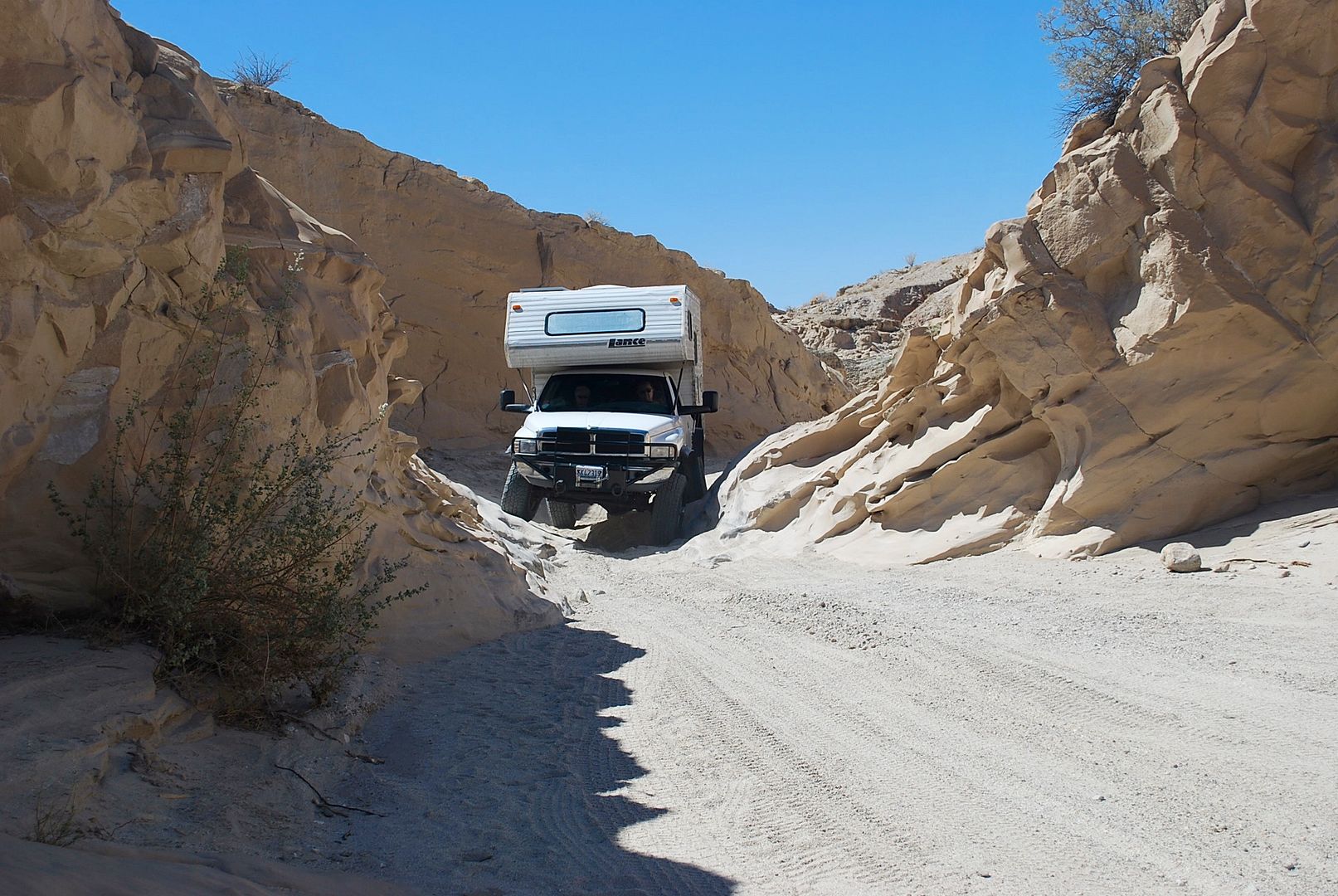 We followed Canyon Sin Nombre from beginning to end with a bit of rock crawling and had lunch on this mesa:
Driving up another canyon on our way to Dos Cabezas we took the rougher route and pulled into a secluded camp.
It got very windy during the afternoon and all night as you could feel the buffeting of occasional gusts.
Next day finds us at Dos Cabezas, a water stop on the ill-fated and abandoned San Diego and Arizona Eastern railway. The pipe that feeds the tank trails off 5 miles to Dos Cabezas Spring, our next overnight.
You never know what you will find this far out in the desert, but a billiard table is not on the list. A desert dweller who loved this locale died and wished to have his pool table set up on the loading platform of the railroad. So it came to pass with his friends and passers-by signing the table. It had a sturdy plywood cover to fend off the elements and all the balls and parts were there. We played a few rounds.
Crossing the tracks we mosied toward Dos Cabezas (two heads).
There are two images above of aboriginal heads that appear at a certain time of day near dusk. Dos Cabezas was a great camping location. Lots of space, wildlife, great vistas, solitude, and petroglyphs.
We used our pop-up shower enclosure, which works great in warmer weather and saves waste water from going into our small black tank. We had no problem going nine days with an 18 gallon fresh tank (plus 6 gallons of drinking water); a 14 gallon black tank, and a 12 gallon grey tank.
The only problem was getting the "genie back in the bottle." We followed the terrible directions for folding it up without success until Brother John came over and figured out that you must make three circles as you fold it up. That was the ticket.
Next day we went up some canyons with native palm trees that have been here for millions of years. This one has a ghostly cholla hand reaching out of the sand:
A lot of roads in this territory look like this:
Exiting Palm Canyon, we came across a lady stuck in the sand in her two-wheel drive mid-size pickup. We drove around her and I winched her back facing downhill the way she came. She couldn't believe that she was stuck with four brand new tires. How could that happen? Brand new tires.
It was another long day and we needed to find a camp. This one will do.
Another day dawns and we continue our fast camel cruise getting to the upper reaches of Pinion Wash. There was no way to avoid the desert pin striping as the foliage was tough and close.
So, this is the end of the road up Pinion Wash. No Pinions in sight.
Next morning we're up early to see more sights and run more faint trails on our way back to Megalopolis. It was a fine trip.
Some notes on the preparation: I brought my 25-pound CO2 tank to reinflate the eight tires once we gained pavement again. The tank was full at the start and from experience I'm thinking we could have blown those eight tires up about five times with the tank. I learned this reinflating similar size Jeep tires every day in Moab during "Jeep Week." When we got home, I ordered and received a new clip-on-battery air compressor for single vehicle use, the VIAIR 440.
All the drivetrain and suspension prep proved to be a winner with little sway (as evidenced by the videos). I did notice in one of our videos a bounciness at the rear, which tells me I need a second set of shocks for the rear axle, something I've suspected for a long time.
My ancient, wood framed Lance 165S truck camper has paid for itself over and over through thick and thin. I've had to keep the maintenance up on it especially the caulking and I'm always worried about water intrusion as evidenced by my large splash guards fender lips and deflectors. My 200 watt solar power system worked great in the desert. Power usage fails to be a concern.
The Cooper Discoverer 35-inch AT3's worked exceptionally well. The large tread blocks and small voids tended not to dig into the sand going uphill at low pressure. Also, the wider rear wheels allowed more surface area of the sidewalls to get involved with the flotation patch, especially when going uphill when the weight transfer is to the rear axle.
We did a lot of travel at or just above idle for days on end and this had a deleterious effect on the diesel injectors. Cummins now recommends an additive/injector cleaner called Power Service Diesel Kleen to cure the woe. Once home, I used a small amount in a couple of tanks and the sluggishness dissipated.